Renovation is underway at Terminal 2 of LAX, thanks to it being a part of Delta's Skyway Project. Has that changed where you can grab a bite to eat or a pint to drink before boarding a flight? Here's an overview of all the restaurants at LAX Terminal 2.
Where to eat & drink in LAX Terminal 2
As we mentioned earlier, LAX Terminal 2 is undergoing an overhaul. So things might change in the future, and we'll be sure to keep you updated. In the meantime, here's our guide to all the restaurants at LAX Terminal 2.
Barney's Beanery
6:30 am – 9:30 pm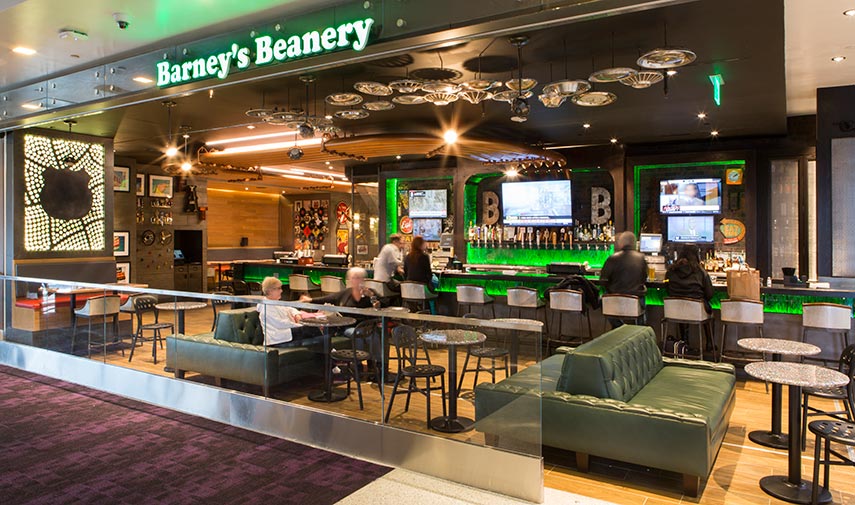 Image source: https://www.laxshopdine.com/
This popular gastropub has been a staple in Los Angeles for 90 years. The roadhouse's unique decor and traditional American dishes, such as burgers, salads, and chili, will make sports fans and gourmets alike feel perfectly at home.
Try out the Avocado Melt, which has cheese, tomato, and grilled onions atop a leaf of marble rye. The Barney's Burger comes on a toasted buttermilk bun and is topped with pickle, caramelized onion, American cheese, tomato, lettuce, mustard, and Barney's sauce.
Breeze
4:30 am – 1:30 pm
Image source: https://www.laxshopdine.com/
Breeze is the ideal place to grab a bite to eat before your flight because it is just a few steps away from your gate. All of their salads, sandwiches, and pastries are created from scratch, making them an excellent choice for a quick and easy dinner. In addition to that, they provide meals prepared entirely from scratch, such as cinnamon overnight oats, immunity smoothies, fresh guacamole and chips, chicken tacos, and veggie jars.
Even if you're gluten-free or vegan, you'll still find options here. You can place an order up to 24 hours in advance through our web app, at which point you can select a pick-up time and bypass the line.
BUILT (Custom Burgers)
5:00 am – 7:00 pm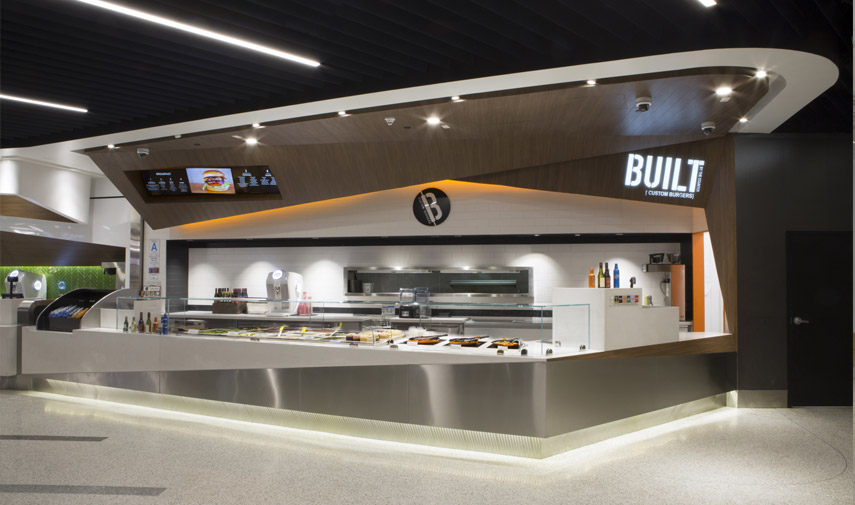 Image source: https://www.laxshopdine.com/
You can create your own burger from the ground beef all the way down to the bread and the condiments at BUILT. Or you can choose one of their previously made burgers. The steak is melt-in-your-mouth, the vegetables are crisp, and the potatoes have just the right amount of seasoning.
You'll also find options that don't include meat on the menu. Add-ons include delectable condiments and sauces, such as smoky chipotle aioli and dried cranberries, which you can buy separately.
Fresh Brothers Pizza
7:00 am – 10:30 pm
Image source: https://www.laxshopdine.com/
Fresh Brothers offers a variety of food options in addition to their mouthwatering pizza pies, such as garlic bread knots, boneless wings, salads, and mozzarella sticks.
The pizza pies are prepared with dough produced from scratch, and there are also options for crusts that do not include gluten.
Jersey Mike's
5:00 am – 10:30 pm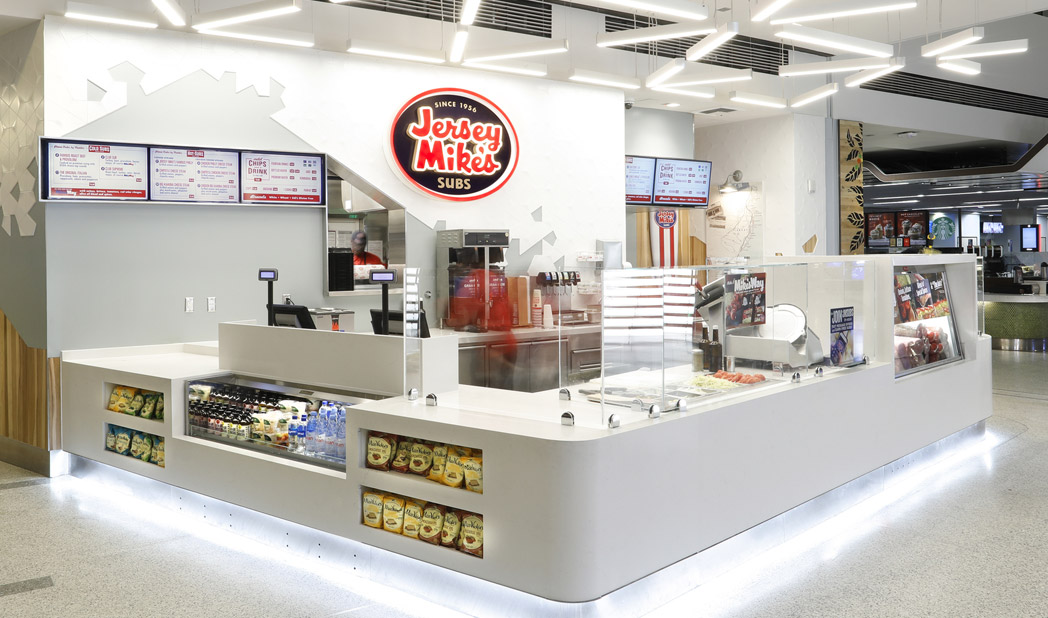 Image source: https://www.laxshopdine.com/
This quick-counter favorite makes traditional Italian submarine sandwiches with premium meats and cheeses, as well as daily fresh-baked bread, for convenience meals on the move in the form of comfort food. "Sub in a Tub" transforms any sandwich or wrap into a salad, making it a more nutritious alternative to traditional fast food. Even the most ravenous travelers are likely to be satiated after eating the large Italian sandwiches or Philly cheesesteaks at this LAX Terminal 2 restaurant.
Pick Up Stix
10:00 am – 5:00 pm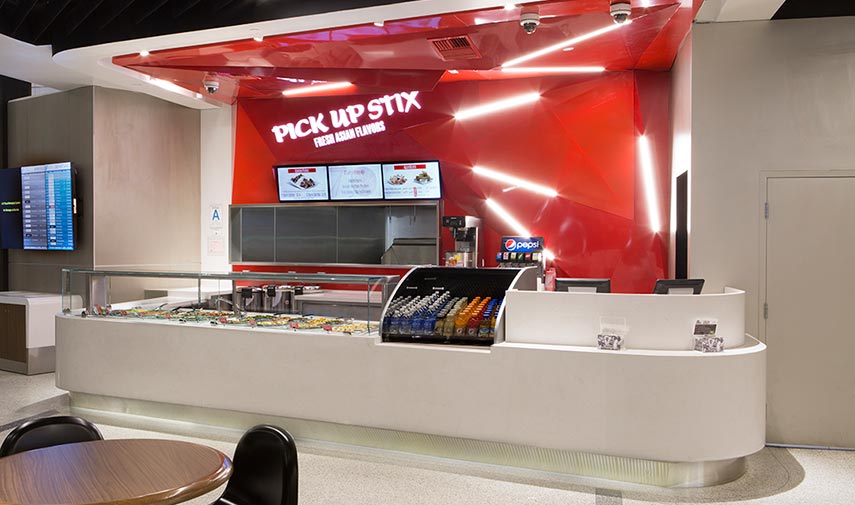 Image source: https://www.laxshopdine.com/
Who wouldn't love Chinese fast-food classics after boring airline food? Especially when it's from a steam table! Pick Up Stix caters to the American appetite for accessible and inexpensive Chinese food by providing traditional favorites like egg rolls, wontons, and fried rice. You'll also find several vegetarian and gluten-free options here.
SeaLegs Wine Bar
6:00 am – 10:00 pm
Image source: https://www.laxshopdine.com/
The Sealegs Wine Bar at LAX is a wonderful establishment for travelers who want to unwind with some wine. Be sure to make advance bookings to get the most out of the ambiance and the food choices. Flatbreads, chicken sandwiches, and kale salads are some available food options.
The California Breakfast Plate is our top recommendation here. It comes with eggs, mashed avocado, smoked salmon or grilled chicken, breakfast tots, and sourdough toast. There is a wide selection of bar snacks, small meals that can be shared, and sharing platters available for those who do not wish to overeat immediately before their flight.
Slapfish-A Modern Seafood Shack
6:00 am – 9:00 pm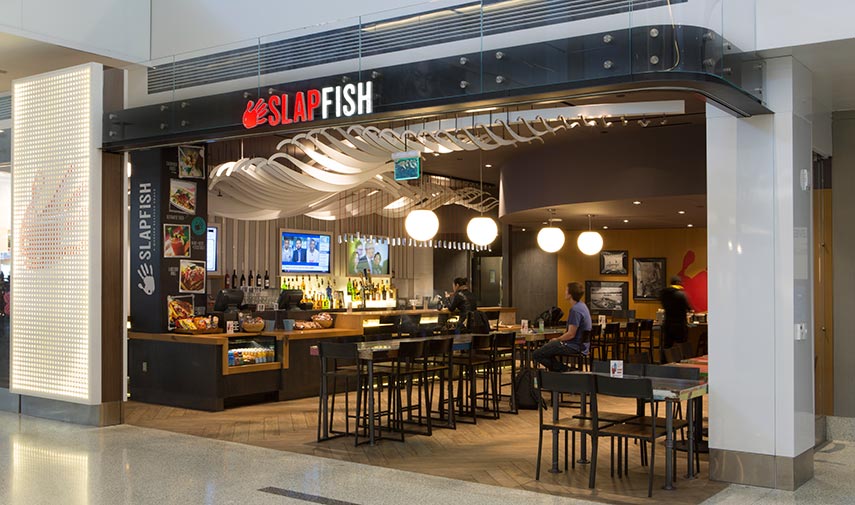 Image source: https://www.laxshopdine.com/
Slapfish is a LAX Terminal 2 restaurant that caters to travelers searching for healthier, on-the-go meal options with various seafood options. The cuisine is always freshly prepared. Passengers can pick it up before their flights. They can also relax and enjoy a drink from the well-stocked bar at the same time.
Try the Shrimp and Grits, a Lobster and Egg Taco, or a Smoked Salmon Bagel for breakfast. Try their Lobster Roll or New England clam chowder a little later in the day.
Starbucks
4:00 am – 12:00 am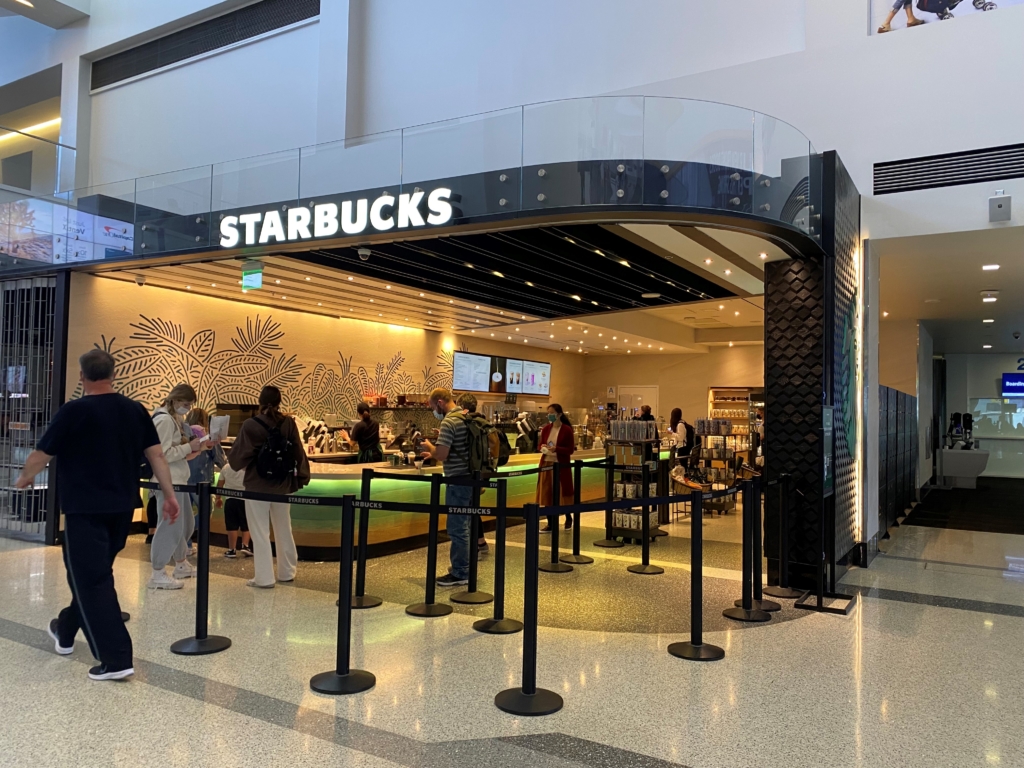 Image source: https://www.laxshopdine.com/
Starbucks needs no introduction. This American classic is the pinnacle of fancy coffee drinks, representing the best of what can be had while yet enjoying the greatest in ease of preparation.
Sit down and relax with a freshly brewed specialty coffee, or get some food to go, such as sandwiches, fruit cups, and pastries, and eat as you wait for your flight.
---
Here's more info on top-rated airport parking, the best parking spots in your city, affordable auto insurance, easy auto refinance, and high-quality car washes near you.
---